Car Bundle | For Samsung

SnapMount 3 | SnapMag Leather Case
$ 109.90

USD
$ 119.90

USD
or 4 payments of $27.48 USD with
or 4 payments of $27.48 USD with
30% OFF WITH CODE: BOXING30
We donate $1 from every sale to Solar Buddy. Help reach our goal of donating 600 solar lights this year. Learn more
What's included in this bundle
• SnapCase Mag
Samsung SnapMag Case in your choice of Blush Pink or Midnight Black
• SnapMount 3
1 x SnapMount 3
1 x QC 3.0 Cigarette Adapter
1 x USB-C Cable
1 x SnapMag Ring
1 x Adhesive Dash Mount
1 x Circular Vent Attachment
1 x User Manual
Tech specs & compatibility
Tech specs and compatibility are available for individual products.
What's included in this bundle:
Our main focus here at SnapWireless is to provide the absolute best purchasing experience for our customers. We take pride in our products and ensure we only sell products we would personally use. 
That's why we are proud to offer a 30-day Money Back Guarantee provided you have used our products correctly in order with our instructions. Shipping costs are not refundable. 
To qualify for our money back guarantee please follow these simple instructions:
You must fill in the claim form (here) and begin the troubleshooting process within 30 days from the date of purchase.
One of our customer care specialists will then begin the process of troubleshooting or help you use the product according to our suggested use suggestions. 
The returned items should include all accessories and parts included in the box as delivered, any missing items will void the 30-day money back guarantee.
After Approval:
Once we have approved the 30-day money back guarantee request, you will need to send the product/s back to us and provide a tracking number within 7 business days. Failure to do so may result in us withholding the refund.
*In certain cases we may still accept refunds even if our instructions are not followed, or if the product is damaged, however, we may withhold $10.00 - $15.00 restocking fee per item
The 30 Day Money Back Guarantee Does Not Apply for:
Change of Mind
Incorrect Use
Incompatibility issues - so make sure you read our compatibility section.
All domestic US orders are shipped from our US logistics warehouse in Grove City, Ohio with partnered courier companies such as USPS & FedEx.
We also provide worldwide shipping to customers all over the world using partnered courier companies such as DHL, FedEx & USPS.
HOW MUCH WILL SHIPPING COST?
Domestic - United States
Standard USPS Shipping (3-7 Business Days) - $4.99
Express Shipping (2-4 Business Days) - $19.99
Orders over $69USD - FREE Standard Shipping 

 

(4-7 Business Days)
International 
Zone 1
Countries: Canada, Austria, Belgium, Croatia, Denmark, Estonia, Finland, Germany, Gibraltar, Greece, Hungary, Ireland, Italy, Latvia, Lithuania, Luxembourg, Malta, Netherlands, Norway, Poland, Portugal, Spain, Sweden, Switzerland, Åland Islands, Albania, Andorra, Armenia, Belarus, Bosnia & Herzegovina, Bouvet Island, Bulgaria, Cyprus, Czechia, Faroe Islands, Georgia, Greenland, Guadeloupe, Guernsey, Iceland, Isle of Man, Jersey, Kosovo, Liechtenstein, Mayotte, Moldova, Montenegro, North Macedonia, Réunion, Romania, San Marino, Serbia, Slovakia, Slovenia, Svalbard & Jan Mayen, Turkey, Ukraine, Vatican City, Australia, Hong Kong SAR, Malaysia, New Zealand, United Kingdom
Standard International Shipping (4-10 Business days) - $19.99
Orders over $110USD - FREE Standard International Shipping (4-10 Business days)
Express International Shipping (2-4 Business Days) - $29.99
Orders over $110USD - Express International Shipping (2-4 Business Days) - $19.99
Zone 2
Countries: Rest of World 
Standard International Shipping (4-10 Business days) - $29.99
Orders over $150USD - FREE Standard International Shipping (4-10 Business days)
Express International Shipping (2-4 Business Days) - $39.99
Orders over $150USD - Express International Shipping (2-4 Business Days) - $29.99
HOW LONG WILL SHIPPING TAKE? 
We work hard to dispatch all orders on the same business day from the order being placed. In peak periods orders may take up to 2 business days to dispatch.
As for shipping times please see above. 
IF YOU HAVE ANY FURTHER QUESTIONS PLEASE HEAD TO THE SHIPPING SECTION OF OUR HELP CENTRE
The Ultimate Car Charger


SnapMount 3
Our third generation Snapmount is our best ever.
SnapMount 3 now features a new and improved mounting system for an exceptionally secure hold. It also has a new magnetic alignment system and is compatible with new iPhone 12 and MagSafe range as well as any Qi enabled smartphone.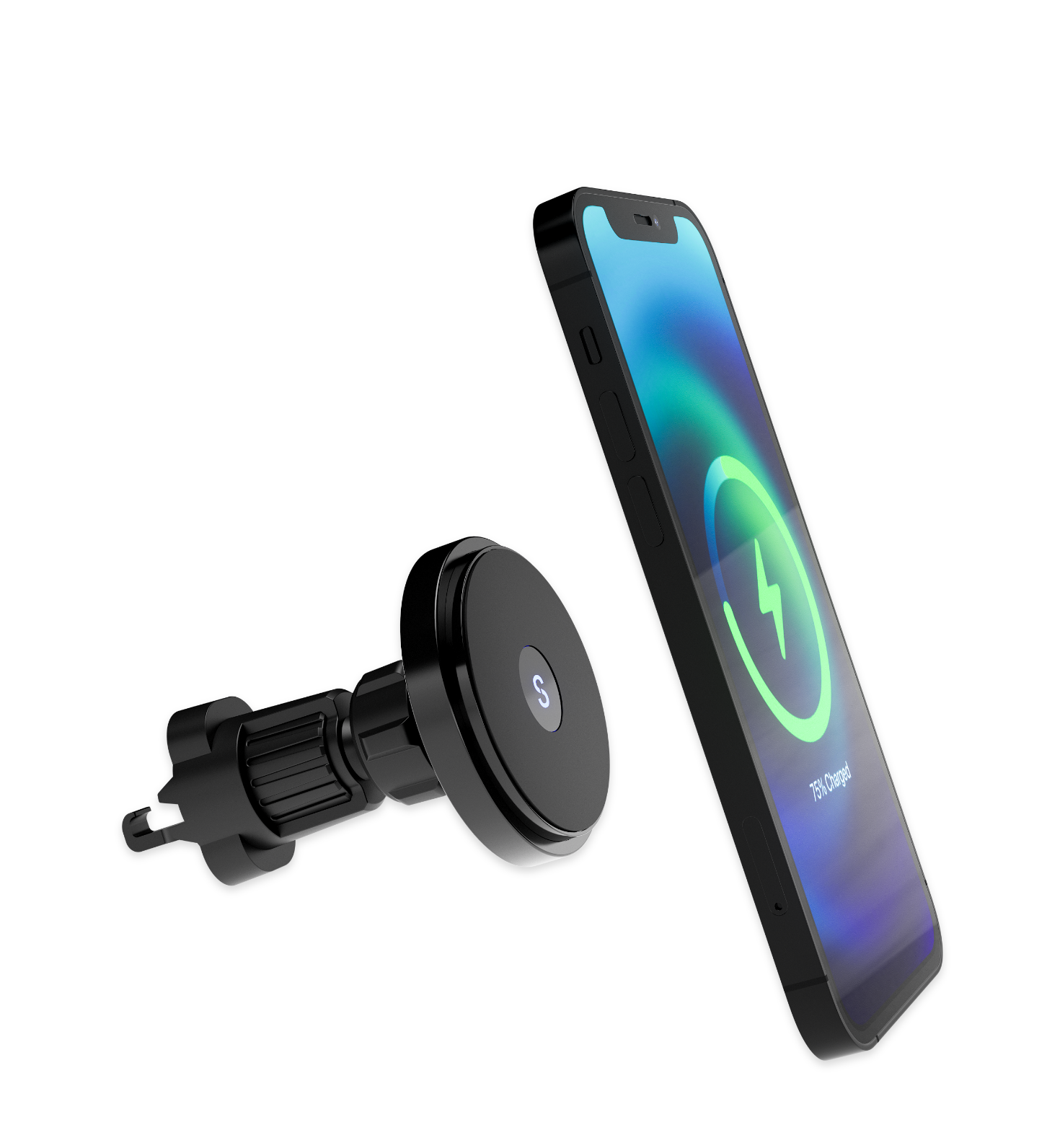 Protection Perfected




SnapMag Case
SnapMag Case is designed to be used with SnapMount 3 and PowerBase 2. Our new SnapMag Case is now hand assembled from premium full grain genuine leather. It also has a built-in SnapMag ring with a unibody design for precision magnetic alignment. Added screen lip and microfibre lining doesn't compromise protection for style.
SnapMag Case is our free gift to you with all Car Bundles for a limited time only.
I recommend this product
Nice made
This was easy to install and has no issues with bumpy roads I have travelled. Nice made and seem a solid investment.
Excellent charging in the car!
This combo is great. Fits in each vehicle I've tried it in without hassle and is so much easier than fiddling around trying to get your phone into a holder. And of course it charges well.
Not a huge fan of the case though. It looks really nice, but find it not very grippy when holding and the buttons on my S20+ can be hard to press as they're so close to edge of it. But all in all, love the charging!
Good product.
Like the product but the case didn't fit my phone. Do you make a case for the S20 FE? As I've been sent one for the S20.
Hi Chris!
Thanks so much for take the time to provide your feedback, we're happy to hear you love our new products! Not long now, we're hoping to release the Samsung S20FE model around the end of October/November this year.
Feel free to reply to us and we'll be able to provide a store credit/exchange for when that case is released!
Thank you,
#SnapFam