New
Built-in Apple Watch Charger
Choose from flat or stand watch charging
Two Devices At Once
Fast charge 2 devices from one charger
MagSafe Compatible
Designed for your Apple devices
Lightweight & Compact
Foldable design, perfect for travel
SnapMag
PowerBase Go Duo
2 in 1 Wireless Travel Charger
---
Notify Me When Available
The PowerBase Go Duo sets a new standard for dual device charging. Its foldable design allows for a compact, travel-ready size wherever you go. Additionally, it is MagSafe compatible, so you'll get a satisfying snap every time, and the built-in Apple Watch charger eliminates the need to carry an extra one. Finally, it has our classic fabric finish, so you can be sure it'll complement any style.
Tech specs & compatibility
Tech Specs
Input: DC 9V/3A, 5V/3A
Phone Wireless Output: 15W Max
Apple Watch Charger Output: 3W Max
Dimensions: 170mm x 80.5mm x 16mm
Weight: 116g
Safety Protections: Overcharge protection, battery over-discharge protection, overcurrent protection, short circuit protection, over-discharge voltage protection, over temperature protection Compatibility
The PowerBase Go Duo is compatible with al Qi enabled smartphones, all Qi enabled AirPods & all Apple Watch series.

Apple
iPhone 14/14 Plus/14 Pro/14 Pro Max, 13,/13 Mini/13 Pro/13 Pro Max, 12/12 Mini/12 Pro/12 Pro Max, 11/11 Pro/11 Pro Max, X/Xs/Xr/Xs Max, iPhone 8/8 Plus/SE (2020).

Apple Watch
Apple Watch, Apple Watch Sport, Apple Wastch Edition, Series 1, 2, 3, 4, 5, 6, 7, SE, 8 & Ultra. 49mm, 45mm, 44mm, 42mm, 41mm, 40mm, 38mm (watch charger is built-in the PowerBase Go).

Samsung Galaxy
Galaxy S22, S22+, S22U/S21, S21+, S21U, S21FE/S20, S20+, S20 Ultra, S20FE/Z Flip, 3, 4/Z Fold, 2, 3, 4/Note 10, Note 10+/S10e, S10, S10+/Note 9, S9, S9+/Note 8, S8, S8+/S7, S7 edge/Note 5/ S6 edge+, S6 edge and S6.
What's Included In The Box
1x PowerBase Go Duo
1x USB C Cable
1x SnapMag Ring
User Manual
Note: 18W USB-C adapter required for power supply (not included)
What devices can I charge with the PowerBase Go Duo?
The PowerBase Go Duo is designed to charge your Apple devices, with dedicated charging areas for your iPhone or AirPods and Apple Watch. The Apple Watch charge can only charge Apple Watches and is not compatible with Galaxy Watches.
Do I need to install my own Apple Watch charging cable?
No! The PowerBase Go Duo has an Apple Watch charger built into it meaning you will not have to install your own charger or cable.
Do I need a quick charge plug?
Yes, in order for the PowerBase Go Duo to charge multiple devices you will need the minimum output required which is an 18W USB-C adaptor.
Do I need a SnapMag phone case?
To have the best experience in terms of magnetic alignment, we suggest to use a SnapMag case. Devices that are MagSafe compatible without a case will still be able to snap in magnetically. However if you use a case over your device that is not MagSafe compatible you will not feel the magnetic hold.
Can I charge Samsung watches or phones?
Samsung phones when paired with a MagSafe compatible case can be used with the PowerBase Go Duo (check compatibility to see if your devices are compatible). Galaxy Watches are not compatible with the PowerBase Go Duo.
Fast dispatch from our US warehouse.
You have 30 days to arrange a return with us.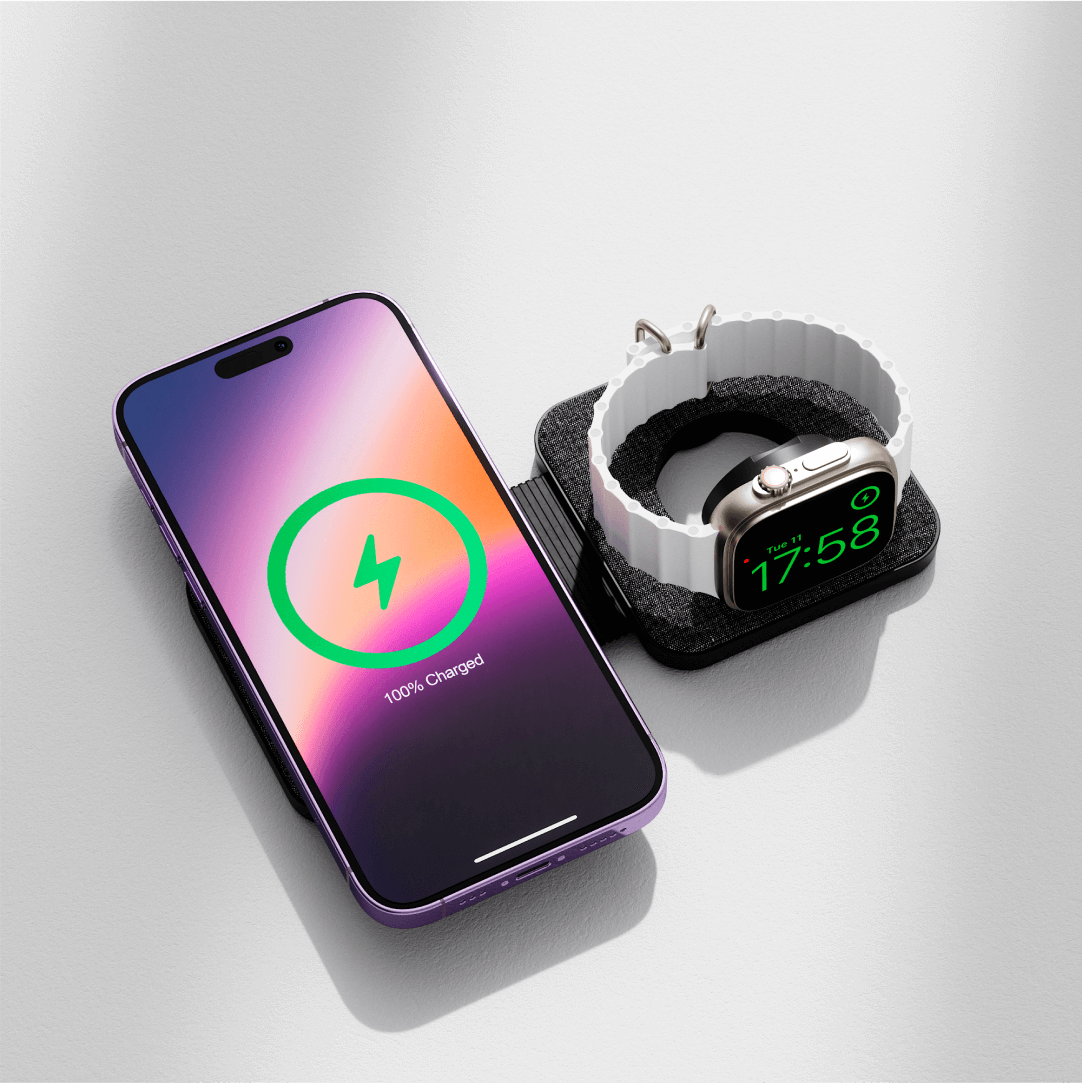 Dual device charging just became portable.
PowerBase Go Duo sets a new standard for dual device charging with its innovative, foldable design, perfect for charging on-the-go.
Designated charging spot for each device.
The PowerBase Go Duo features a built-in Apple Watch charger, so you don't need to carry your own. Additionally it has an extra charging spot that can be used for your iPhone or AirPods.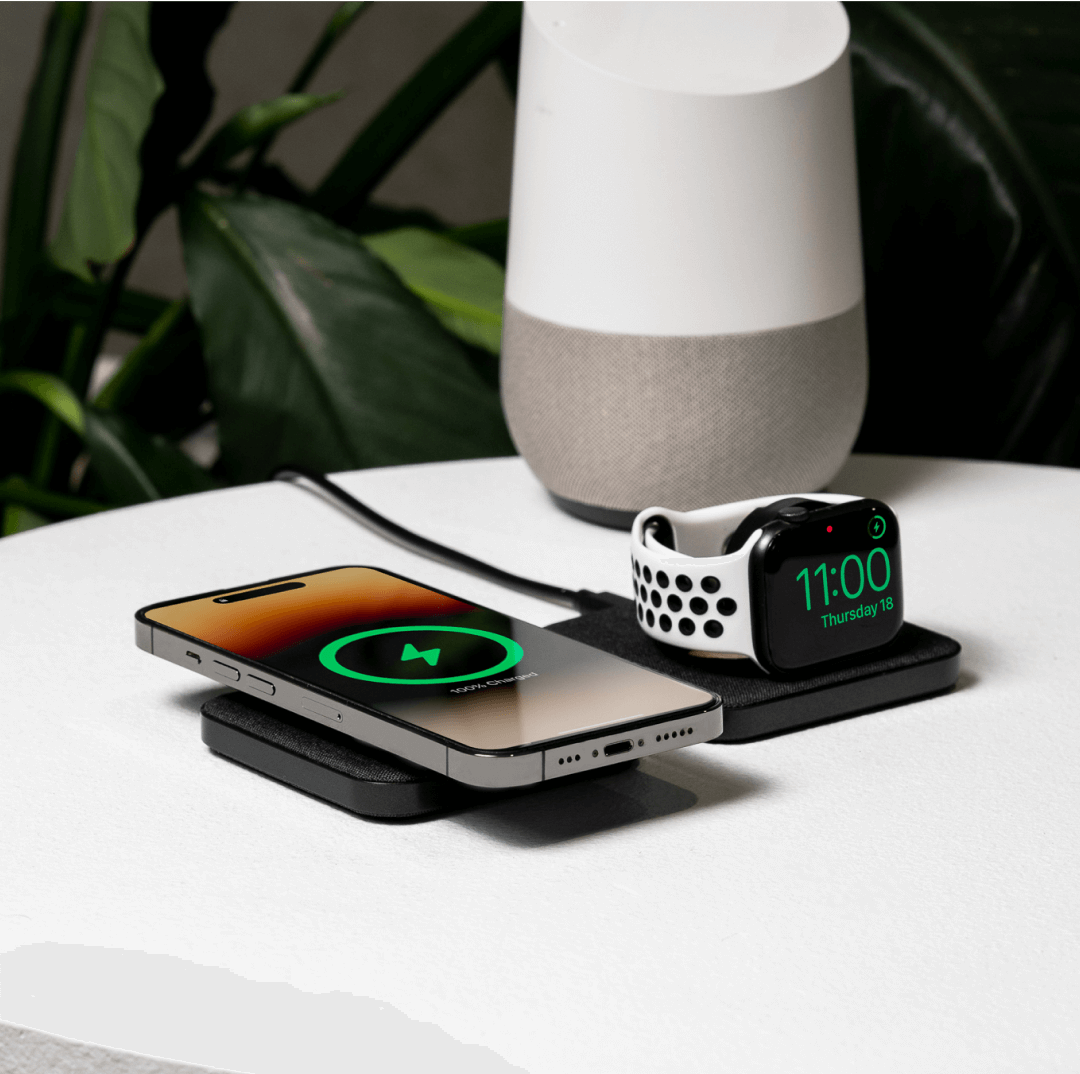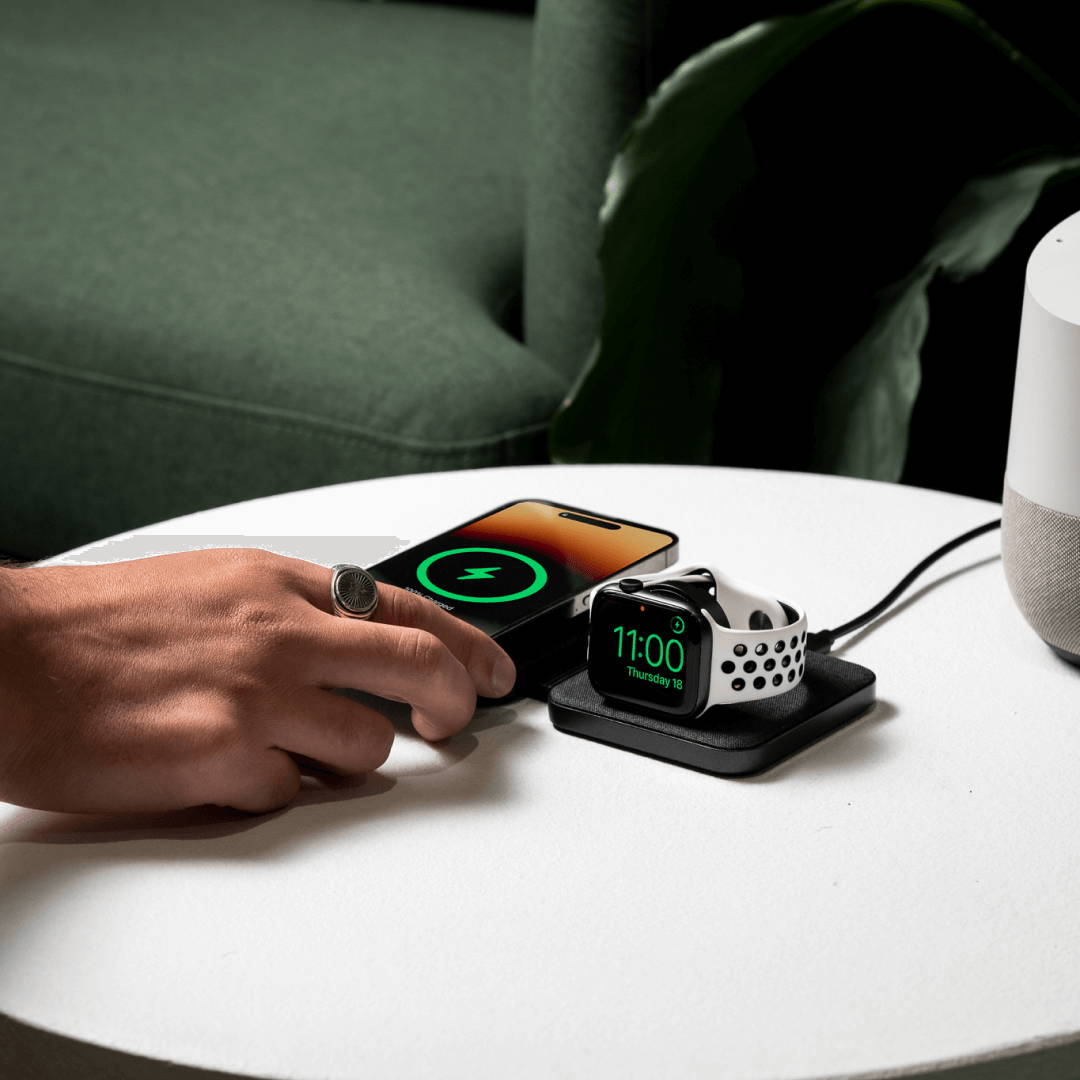 Satisfying Snap-On magnetic alignment.
PowerBase Go Duo is MagSafe compatible, meaning you will get that satisfying 'snap' every single time. You can even pair it with your favourite SnapMag Cases.

Compact and lightweight, perfect for travel.
It's never been easier to charge your favourite devices while on-the-go. You can take the PowerBase Go Duo with you wherever you travel, without the cable clutter.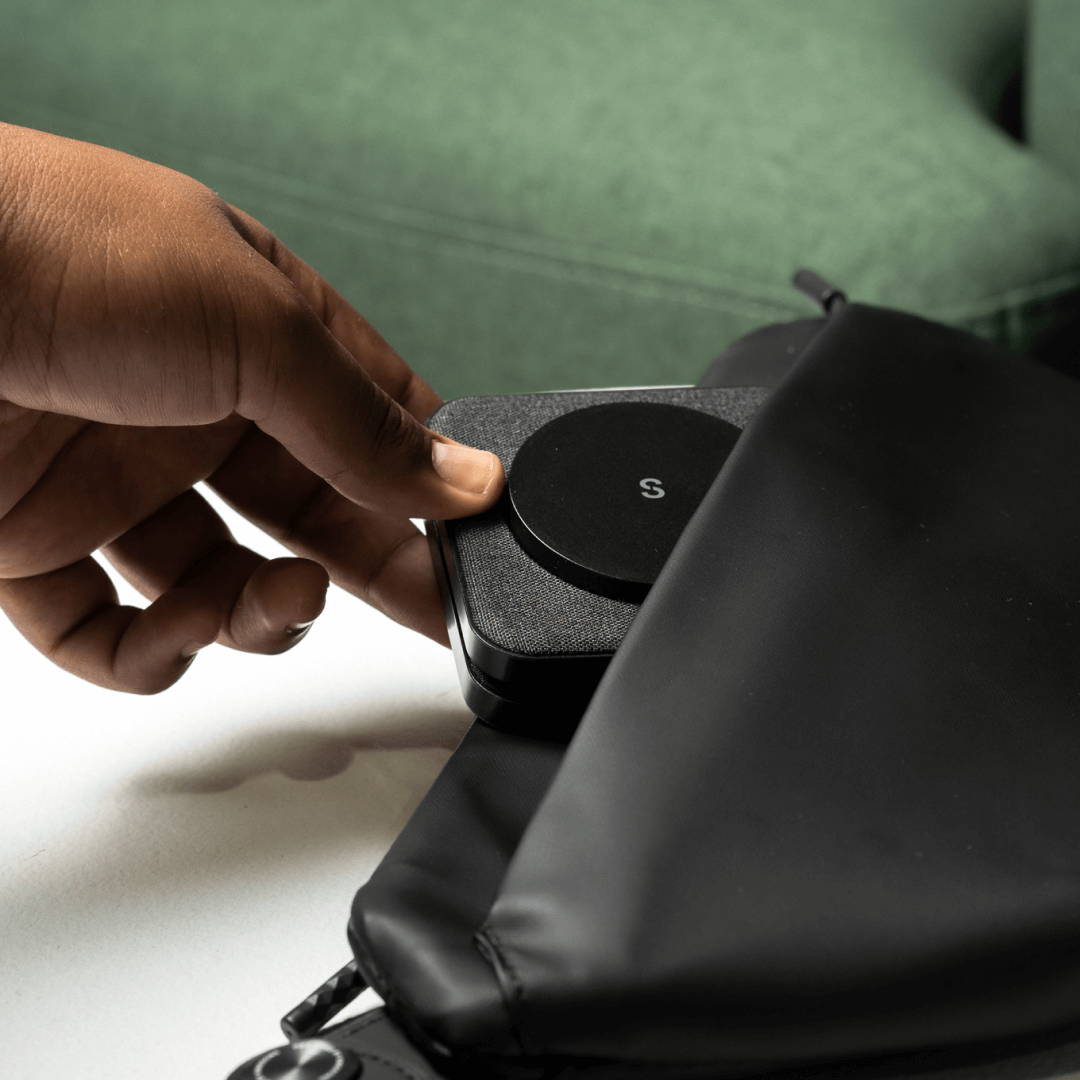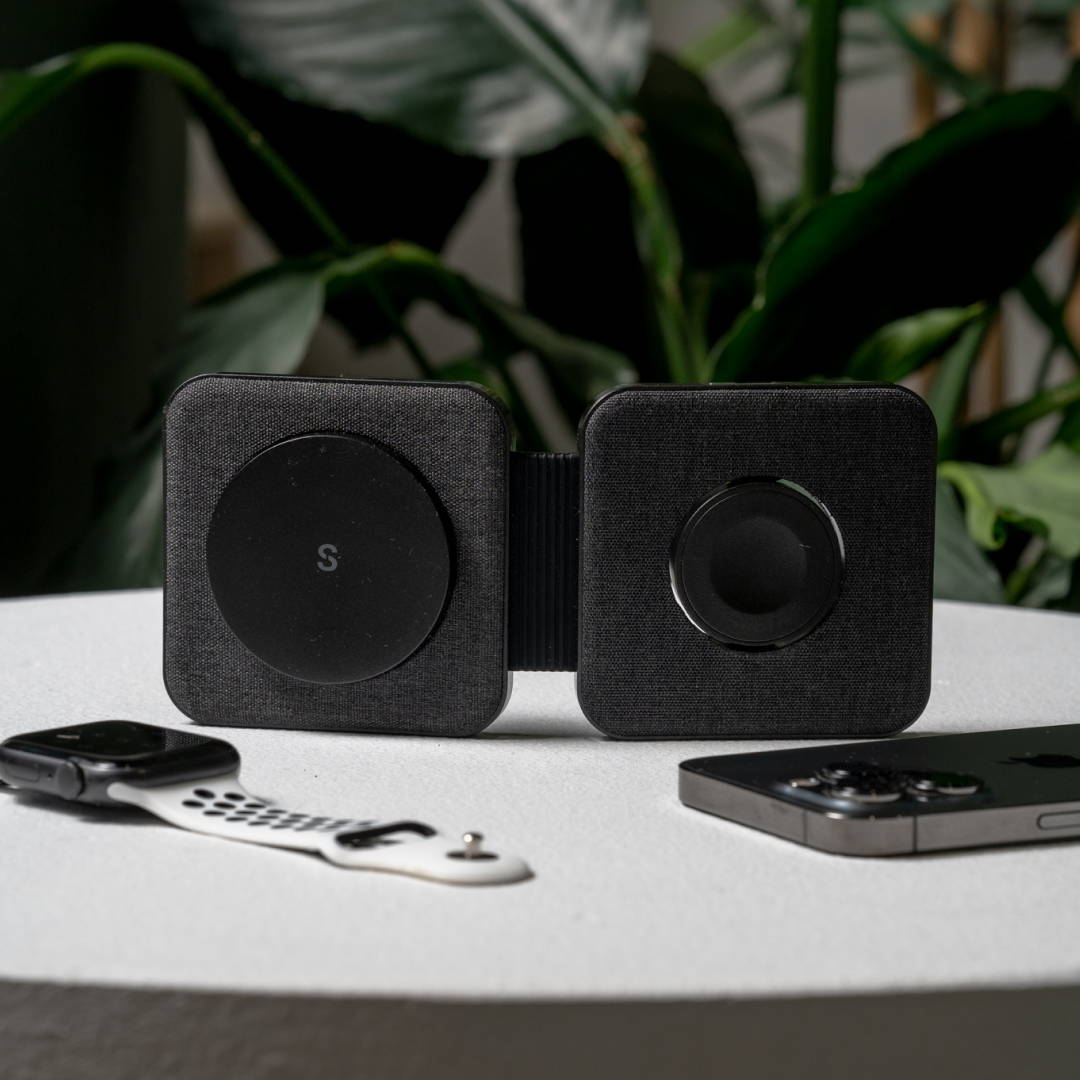 Our classic fabric finish.
Stylish and sleek, the PowerBase Go Duo features our classic fabric finish. This ensures it will compliment any style and never look out of place.
This product has no reviews yet.